About Steve Saunderson
Biography
Steve is a BBC Film Unit trained lighting Cameraman. As a Drama DOP his productions range from MERSEY BEAT to MIDSOMER MURDERS and Documentary shoots from the tranquil Antarctic and Galapagos to the less than tranquil West Bank and Lebanon.
In drama, factual and commercials, Steve provides a classy image at a speed and price to suit the production's requirements.
Steve is experienced in Hi-Def / Digi-Beta / DV / 35mm and 16mm

Credits
COMMERCIALS
STEAMY WINDOWS, Hi-Def for Cinema and Television release, ST16/Lancs. PCT, Dir: Simon Croft

THE RANGE HD/ MAZUMA PHONES HD/ EASY FIT CONSERVATORIES S16mm Charlie Dimmock/ MAXWELL & WILLIAMS/  COOKES FURNITURE HD/ RAIL-AIR HD/ AMBER WINDOWS/ CAPLE GASTRON Aldo Zilli/ BUILDING SUPPLIES R US/  COLES FURNITURE/  WYEVALE AUTUMN/ TESTED ON TOURISTS/ WYEVALE SUMMER
Koala, Digi-Beta, Dir: Simon Cook, Neil Scholes. Prod: Phil Brice
SONY 4k PROJECTION SYSTEMS Warsaw, Poland
SONY HD XDCAM at the MOTO GP UK
Ventura for SONY, Dir: Karen Lamb, Prod: Paul Colbert.
MUSIC VIDEOS
GENIUS SHRIMP, HD., Dir: David Weir, Prod: Wendy Leavesley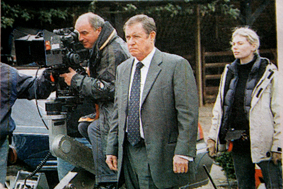 DIRECTOR OF PHOTOGRAPHY ON DRAMA, including:
LIVING IT, CBBC, Digi-beta, Dir: Paul Murphy, Prod: May Gibson
MERSEYBEAT III, BBC, Digi-beta, Dir: Dominic Keavey, Prod: Chris Ballantyne, (Leslie Ash, John McArdle, Jonathan Kerrigan, Michelle Holmes, Chris Walker)
MIDSOMER MURDERS, Bentley Productions / ITV, S.16mm, Dir: David Tucker, Peter Smith, Prod: Brian True-May: A WORM IN THE BUD (John Nettles, Daniel Casey, Wendy Craig, Ian Hogg, Janie Dee, Chris Walker) MARKET FOR MURDER (John Nettles, Daniel Casey, Anton Rogers, Serena Gordon, Jesse Birdsall, Barbara Leigh-Hunt) MURDER ON ST. MALLEY'S DAY (John nettles, Daniel Casey, Jeremy Child, Peter Wight) RING OUT YOUR DEAD (John Nettles, Daniel Casey, Hugh Bonneville, Graham Crowden, Adrian Scarborough, Gemma Jones) TAINTED FRUIT (John Nettles, Daniel Casey)  WHO KILLED COCK ROBIN? (John Nettles, Daniel Casey, Larry Lamb, Jane Lapotaire)
NORTH SQUARE, Company TV/Channel 4, S.16mm, Dir: Nigel Douglas, Prod: Alison Davies. (Phil Davies, Kevin Mckidd, Helen McCrory, Sasha Behar, Kim Vithana, Rupert Penry-Jones, Ruth Millar, Victoria Smurfit)
REACH FOR THE MOON, LWT, Digi-beta, Dir: Richard Signy, Prod: Lis Steele (Jonathan Kerrigan, Saira Todd, Lynda Bellingham, Peter McEnery
PLAYING THE FIELD II, III & IV, 20 x 50 minutes, Tiger Aspect/BBC, S.16mm, Dir: Nicholas Laughland, Robin Sheppard, Dermot Boyd, David Innes Edwards, Alrick Riley, Prod: Hugh Warren, Kathleen Hutchinson (Ricky Tomlinson, James Ellis, John Thomson, James Nesbitt, Lesley Sharp, Melanie Hill, Nick Gleaves, Tim Dantay, Lorraine Ashbourne, Elizabeth Spriggs, Chris Walker, Ralph Ineson, Jo McInnes, Brigit Forsyth, Emma Rydal)
WHERE THE HEART IS II, III & IV, United / Anglia TV, S.16mm, Dir: Christopher King, Simon Massey, Nicholas Laughland, Anthony Quinn, Tony Garner, Hettie MacDonald, Prod: Avon Harpley, Kate Anthony (Pam Ferris, Sarah Lancashire, Tony Haygarth, Jason Done, Thomas Craig, Marsha Thomason)
THE GIFT, Tetra Films / BBC, S.16mm, Dir: Danny Hiller, Prod: Alan Horrox (Amanda Burton, Neil Dudgeon, Trevor Peacock, Zoe Ashmeade)
PRESTON FRONT III, 7 x 50 mins, BBC, Digi-beta, Dir: Chris Bernard, Rick Stroud,  Prod: Bernard Krichefski  (Colin Buchanan, Paul Haigh, Alistair McGowan, Caroline Catz, Carolyn Pickles, Kate Gartside)
THE WOLFMAN, BBC Natural History Unit, S.16mm, Prod/Dir: David Wallace. Documentary with drama sequences illustrating events in the life of Paul Belenovic, who reared wolves and then re-introduced them into the wild. Filmed in and around Zagreb and the Velebit Mountains in Croatia.
THE LOCKSMITH, 6 x 50 mins, Fair Game Films / BBC, S.16mm, Dir: Alan Dossor, Lawrence Gordon Clark, Chris Bernard, Prod: Irving Teitelbaum   (Warren Clark)
NEVERWHERE, 6 x 30 mins, Crucial Films / BBC, Digi-beta, Dir: Dewi Humphreys, Prod: Clive Brill (Laura Fraser, Gary Bakewell, Hywell Bennett, Clive Russell)
BACK-UP, 8 x 50 mins, BBC, S.16mm, Dir: Jan Sargent, Douglas Mackinnon, Bob Blagden, Prod: Hilary Salmon  (Martin Troakes, Nick Miles, Chris John-Hall, Katrina Levon, Alex Norton, Calum MacPherson, William Tapley, Colette Koo, Oliver Milburn)
DOP on other BBC / ITV FILMS include:
FAIR GAME / THE LONG ROADS / FLEA-BITES / BROKE / SURVIVAL OF THE FITTEST / AIMEE / FIRST AND LAST / THE MAN FROM THE PRU / THE LORELEI / ICE DANCE / WILL YOU LOVE ME TOMORROW / CHRISTINE / YOUNG SHOULDERS
DOP on other BBC / ITV SERIES include:
HAMISH MACBETH / 99:1 / BETWEEN THE LINES / ALL CREATURES GREAT AND SMALL / THIN AIR
TITLE SEQUENCES / TRAILERS:
L'ILE AUX TRESORS (French Feature Film, Treasure Island),HD. CANAL+/Chemin Vert,
Dir: Alain Berberian/Chris Brett
PAY OFF YOUR MORTGAGE, BBC, HD, Dir: Ewan Keil. Prod: Sarah Eglin
THE FLYING GARDENER, BBC, S16mm, Dir: Ewan Keil
BBC MIDLANDS NEWS (steadicam), BBC, Digi-beta, Dir: Chris Nelson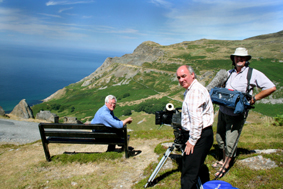 DOCUMENTARY / FACTUAL
COUNTRYFILE, BBC, Dir: Dean Jones, Kulwant Sidhu, Louise Pyne, Richard Sadler, Caroline Ossowska, Stephen Lockwood, Jennie Hammond, Kate Hollingsworth and Paul Vanezis.
TO BUY OR NOT TO BUY III, IV, V, VI, VII & VIII BBC, Dir: Kate Holligsworth, Sharon Fisher, Patty Kraus, Paul Barnett, Danny Piesley, Sophia Wollschlager, Rob Murray, Sangeeta Sehdev, Jane Williams, Paul Vanezis, Michelle Davis, Andrew Lester, Michelle Furey, Andrew Painten, Dean Jones, Becky Pratt, Paul Newman.
Prod: Dick Sharman, Rosemary Edwards and Helen Foulkes.
OCEAN FINANCE, HD., Sound and Picture House, Dir Simon Cook, Prod: Ed Duffield
HELP! MY DOGS AS FAT AS ME Endemol, BBC3, Dir: David Coyle, Prod: Amelia Bowman
SPENDAHOLICS, Betty TV/BBC, Dir:Tara Yang
DISPATCHES, Channel 4,
TEMPER YOUR TEMPER, BBC,Dir: Paul Barnett, Andrew Lester, Becky Pratt, Sangeeta Sehdev, Prod: Helen Foulkes
DON'T GET DONE GET DOM, Flame TV / BBC, Dir: Claire Brown, Prod: Andrew Snowball
PAY OFF YOUR MORTGAGE, BBC, Dir: Micci Billinger, Adam Purver, Prod: Sarah Eglin
FRONTLINE FORENSICS, i2i Television, Dir: Katie Wright, Prod: Keith Duddy and Sam Green
COUNTRYFILE SUMMER DIARIES, BBC, Dir: Andrew Painten, Becky Pratt, Jane Williams, Prod: Amelia Bowman
DESI DNA, BBC, Dir: Oliver Clark, Harkirn Khaila, Andy Francis, Robert Murray, Irshad Ashraf
MIND YOUR OWN BUSINESS, BBC, Dir: Helen Foulkes, Jo Kenyon, Kate Hollingsworth, Andrew Lester, Andrew Painten, Becky Pratt, Paul Vanezis, Jane Williams
THE CULTURE SHOW, BBC, Catrin Mair Thomas, Prod: Julian Birkett
BULLET PROOF? Steve Saunderson / Kempton, Dir: Steve Saunderson
ZAPPED, Yap Films / Screenhouse / Discovery Channel, Dir: Patrick Titley, Prod: Pauline Duffy, Paul Bader
PAKISTANI NIGHTS, BBC, Dir / Prod: Amir Jamal, Sarah Feilden, Ayesha Sharif
SUNDAY STYLE, BBC, Dir: Kate Dillon, Prod: Dick Sharman
POINTS OF VIEW, BBC, Dir / Prod: Vanessa Jackson
FAT NATION, BBC, Dir: Alex Rudzinski, Jeff Wilkinson, Prod: Ian Thomas, Virginia Hill
FEATHER YOUR NEST, BBC, Dir: Kate Dillon, Oliver Clark, Michael Murphy, Paul Barnett, Prod: Sue Watson, Vanessa Jackson
CASUALTY SAVED MY LIFE, BBC, Dir: Mark Scott, Paul Vanezis, Prod: Vanessa Jackson
LETHAL LEGACY, (Beirut and S. Lebanon), Trident Productions, Dir: Andy Cottom, Prod: Peter Vine.  Filmed on the Lebanese/Israel border in the minefields, at the heart of a massive mine clearance operation.
AFTER JENIN, (West Bank, Israel), Abu Dhabi Television/Skyscraper/Trident Productions. Dir:Jenny Morgan, Prod: Karl Sabbagh
SERPENT, a David Attenborough Series, BBC Natural History Unit, S.16mm, Dir/Prod: David Wallace.  Close-up shooting of cape Cobras, Rattlesnakes, Puff-Adders/Spitting Cobras to illustrate their habitat, locomotion and venomous strikes (300 p.s. photo-sonics). Shot in the Kalihari Desert and Cape Town, South Africa.
THE TATTOED JUNGLE, Channel 4, Dir: Michael Burke
THE REALLY WILD SHOW, (Ecuador/ Galapagos), BBC, Dir: David Wallace, Jo Sarsby
OUT OF DARKNESS, BBC, Dir: Jenny Morgan, Michael Burke, 2×50 minutes, filmed in Algeria/ Ethiopia
CLOTHES SHOW SPECIALS, BBC, India/ Egypt, Dir: Roger Casstles, Alexandra Fraser, Claire Stride
COUNTRIES WORKED IN:
THE ANTARCTIC / ARGENTINA / BRAZIL / ECUADOR / THE GALAPAGOS ISLANDS  USA / ICELAND / NORWAY / SWEDEN / PORTUGAL / SPAIN / FRANCE / BELGUIM  HOLLAND / GERMANY / AUSTRIA / SWITZERLAND / ITALY / SARDINIA / SLOVENIA  CROATIA / GREECE / CYPRUS / MALTA / ANDORRA / RUSSIA (USSR) / SIBERIA  UZBEKISTAN / TURKMENISTAN / LEBANON / EGYPT / ISRAEL & THE WEST BANK  LIBYA / ALGERIA / TUNISIA / CANARY ISLANDS / MADEIRA / ETHIOPIA / ERITREA POLAND / SOUTH AFRICA / INDIA / THE FALKLAND ISLANDS / U.A.E. / UK
---
---